It's a shame the broadcast starts with a Danny Dichio song. Maybe they just want to sing for him so he won't bite them...
The PBP announcer reminds of William Regal (or Lord Steven Regal for you WCW fans). I keep waiting for him to say that TFC is being "besmirched".
I refuse to comment on the "soccer primer" for fear my head would explode. If this was on ESPN, BigSoccer would've melted down five seconds in.
The Fast & The Furious banner for Cunningham is brilliant, props to the Toronto fans for that one.
It's the GAME OF REVENGE! Cunningham and Conor Casey against their former teams...
Lots of dreadlocks in this Colorado team. I don't think Mastroeni is planning to rejoin the club anytime soon, however. Maybe Thornton can wear a wig on the sidelines...
"The new generation of FieldTurf is sticky." Jeff Cunningham's "jet heel boots" weren't ready for this.
Marvell Wynne WON'T BE DENIED. He just keeps charging down the right, cuts in at the endline, and sends the ball across to Dichio for Toronto's first goal of the day. 1-0 to the Reds.
Cunningham is denied on a through ball for being offside. That looked really, really close. The Toronto announcers seem okay with it though.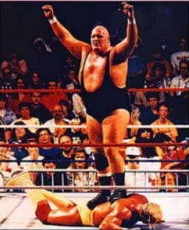 Conor Casey, or King King Bundy, misses an open chance at the back post off a Herculez corner.
Cunningham stoned on a breakaway by Cunningham. Andy Welsh picks up the rebound, and Condoul stuffs him too. Will that come back to haunt Toronto?
Cunningham is giving the Colorado backline fits with his speed. He's just not able to much after getting behind them though.
Colorado is really flat at this point, they look tired already. Condoul had to save them again. Akon is quite impressive today. Condoul saves another, this time a volley from Bobcat Goldthwaite, but he can't hold it. The corner results in Toronto's second goal. Andy Boyens, the Kiwi, gets it. 2-0 to the Reds.
Condoul is under siege, the Colorado defense is invisible at this point.
Bundy gets away and sends a GREAT ball through to Herculez. He slots it past the back-up Toronto keeper and they've cut the lead in half. Awesome ball by Casey to split the defense. 2-1.
I'm not sure how I feel about Clavijo moving Herculez up top and sliding Nico out to the left flank. I love Nico's workrate, but he's just not that good defensively. Maybe Herculez is worse, I don't know. It's sort of worked, Gomez did get a goal, but Wynne is running like crazy down Nico's side.
Mastroeni "blunting" the attack? Hmm... I think I'll leave that one alone.
The Swiss tied Argentina in a friendly today on ESPN Deportes, and Spain defeated Latvia in a Euro qualifier on FSC. John Basedow frightens me, I want FSC to get new sponsors.
The announcers complain about the Canadian referee, and say that it's been a regular thing. Canada hates Toronto FC?
2-1 Toronto at the break.