There's a million and one things going on tonight. The Silverbacks are hosting Miami FC at the RE/MAX. The US A/B national team is hosting China in San Jose. There's plenty of MLS action, with DC traveling to LA later tonight on FSC. I'll just keep this post open to yell, bitch, moan, cheer, etc...
I'll start with the fact that the Atlanta USL Live announcers are really, really bad. Also, you're playing against a tired team (Miami hosted Rochester last night) and you play essentially a 4-5-1, with Rios supporting Antoniuk. Que?
Miami lost their luggage last night and almost didn't have uniforms tonight. Sweet!
Rodrigo is playing farther up front than last time they tried this. I still don't think I like it, where's Hassim? The announcers did say that Millwood was in street clothes.
Ante Razov forces China's keeper into a save on a free kick. The US is playing an attacking 4-5-1, or maybe even a 4-3-3 with Beasley and Dempsey as the attacking wide midfielders.
Miami is really controlling the play early on. That's sad.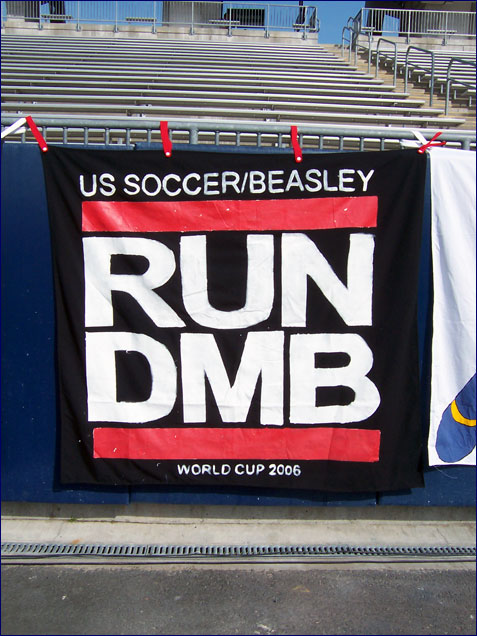 Great ball through for Beasley to run onto and the keeper trips him up. PK for DMB and he scores. USA 1, China 0
Hey, the Silverbacks strung a whole bunch of passes together. I'm shocked. Nothing really comes of it though, but maybe it's a good sign of things to come.
Wow, a sign of life out of Justin Moore. He shoved a Miami defender after a high kick. At least he didn't run away this time...
China gets a lot of possession in the box, the US can't clear, and the score is level. Spector was especially flailing. Nothing Howard could do on the shot, he was screened.
China gets a free kick on a stupid foul by Feilhaber. Howard with a very nice save.
Justin Moore gives the ball away again, but the shot goes over the goal. Atlanta looks lifeless. I don't like the Atlanta PBP guys, but they're at least honest about the team.
Word in from the stands at the RE/MAX: "This might be the worst game I've ever seen." As I'm typing it, Rodrigo sends a great ball across that Moore whiffs on. Luckily for the team, McManus was crashing in at the far post and he knocks it home. Atlanta 1, Miami 0
Benny Feilhaber scores for the US to put them back in the lead. Great ball through to him by Sacha and Benny taps it over the onrushing keeper. Very impressive goal. USA 2, China 1
Very good save by Quintero to keep Atlanta in the lead.
Great bit of play by the US between Sacha, Razov, Deuce, and DMB. The keeper punches away the Razov cross at the end, but the build-up was very nice.
Nice cut and cross by David Hayes, it's just out of Rodrigo's range and he heads over the bar. Nice switch to find him though.
Waldo is right about China playing a line of four in the back. The US wide midfielders are doing an excellent job chipping the ball in behind the outside backs, switching fields. Sacha almost finds DMB on the far post. He's also right about Feilhaber's beard. It needs some work...
Halftime in Atlanta, the Silverbacks are up 1-0. They improved as the half went on, but they never really looked great as a team. Rodrigo is working out better as a forward than I would've guessed, and O'Brien is really lively wide left. Other than that, not much else is going on.
In San Jose, the US has taken control of the game. The US midfielders/forwards are just owning the match and making all of the plays. I'm curious to see some of the new blood in the second half.
In MLS action, New York is up 1-0 on KC via Juan Pablo Angel. No shock there. Cleetus got a red card in the 36th minute. Again, no shock there. New England and RSL are scoreless in the second half.
Mexico is playing Iran, and our southern neighbors are winning 2-0 at the half. Borgetti and Lozano have scored for El Tri.