I'm waiting to see how long it takes for me to throw something at the TV because of Bretos and Sullivan. The sound is so much better on FSC than Univision though, the guys on Univision sound like they're in a tunnel.
Nery Castillo is giving the US fits in the early going, he's working really well with Guardado on the left side. Spector is getting quite a workout for the US.
Early yellow to Bocanegra, after a couple of challenges that could've went against Mexico, but didn't.
The US looks like they've settled in a bit after a rough start. The four man attacking crew of Ching, Beasley, Donovan, and Dempsey hasn't really had a chance yet to do much though.
Donovan finds Beasley at the back post, Beasley's first touch should've been left for Ching to shoot, but DMB wanted it. Oswaldo was able to get out and smother the shot. First real chance so far...
Mexico almost finds space after a bad pass to Bornstein, but Bocanegra cuts him off. Marquez gets his head on two corners, but only one needs to be saved by T-Ho.
Juanito gets forward and RIPS a shot with his right foot, but it goes into the side netting. Business has picked up.
Castillo earns a dangerous free kick, but Pardo puts it off the wall for a corner. Howard punches clear. For some reason, Timmy looks nervous to me.
Damn, Gooch is manhandling Borgetti. Jared must be having flashbacks to Columbus 2005.
Bocanegra forces Borgetti to injure himself with a nice dribble. It looks like a hamstring injury, and he's done. It's going to be Omar Bravo in to replace him.
Decue with a sweet backheel to Donovan, but the shot is blocked. The rebound falls Dempsey, but his spinning volley is saved well by Sanchez.
Guardado sends Castillo through with an awesome touch, but the shot is wide. Bocanegra recovered well and T-Ho did a good job to limit Nery's options.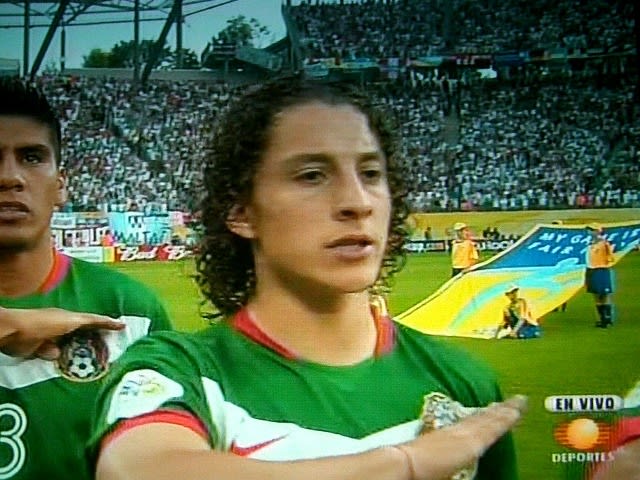 Castillo toasts Gooch on a run down the right side and cross for Guardado, GOL DE MEXICO. Right at the end of the half, that's tough to take. Gooch has had a poor tournament. Say hello to Belgium.
That's the half, I'll be back for round two shortly.