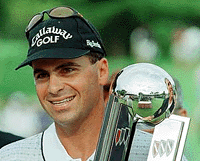 If he hadn't broken his dogleg...

Today is the day where MLS teams have to become roster and salary cap compliant. The waiver draft is tomorrow and word is starting to come out about who will be available.

DC United announced that Domenic Mediate has been released. He broke his leg last season against LA and there are still doubts about when he will play again. It's a shame, he could've been really useful for DCU this season.

Dallas let Justin Moore go, and the word on the street (or BigSoccer, whichever you prefer) is that he will be joining the local Atlanta Silverbacks. Makes sense, he's a local guy.

Jon Busch, Jose Retiz, Ivan Becerrea and Chris Leitch were all let go in Columbus. I'm still waiting to see what Busch will have to say about it, he promised the Columbus newspaper some comments after things were official.

Chicago traded back-up keeper Zach Thornton over to Colorado for a conditional supplemental draft pick. Get the cheeseburgers ready in Denver.

New York says that they do have room under the cap and on the roster to make moves tomorrow if they so choose. We'll see...