One of the things I love about the Canadian National Team is the slew of current and former USL First Division players. Martin Nash (Vancouver), Gabriel Gervais and Antonio Ribeiro (both Montreal), plus the slew of players who made the move to Toronto FC (Greg Sutton, Adam Braz, etc.) and former USLers (ALI GERBA! TORONTO LYNX 4 LYFE!, Atiba Hutchinson) have piqued my interest in the team. To me it's just strange seeing these guys playing in such a big competition after seeing them for years. Hey, maybe if Leslie Fitzpatrick (former Atlanta Silverback) hadn't disappeared off the face of the earth, he could have been called up to the gutted Trinidad & Tobago NT. I hear that's what playing for Real Salt Lake will do. You never get over the embarrassment.
ONTO THE RANKINGS! ENOUGH ABOUT CANADUH!
1. Vancouver Whitecaps (-)
- I'm not budging even after they lost to California on Thursday. They pulled out a tough one against Minnesota on Sunday. Montreal had a loss and a tie. And there's no other team that deserves to sniff the top spot. So there.
2. Montreal Impact (-)
- Gave up a late goal on Wednesday to tie Minnesota, then looked like the Silverbacks on Friday and lost 1-0 to Portland despite peppering the Timbers' goal all night long. No need to worry Impact fans. With the way this league is looking right now, you're still in a good spot. An off week won't have that many consequences.
3. Rochester Raging Rhinos (-)
- A draw in Cary against the RailHawks, then a win the next night at home against a Timbers team that had upset the Impact the night before. Now they're picking up steam and get 5 more games in a row at home. If John Ball gets hot, watch out.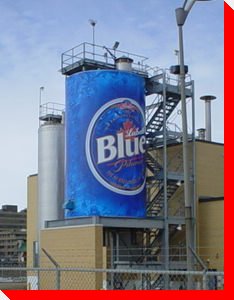 4. Portland Timbers (-)
- Look who has the 2nd best goal differential in the league! I'm not going to complain about their loss in Rochester. They were probably up late celebrating their win in Montreal with this monstrosity of a Labatt. They get some time off after Tuesday's Open Cup game, as they don't host Montreal until June 21. Speaking of that, they've only played 8 league games and they get almost 2 weeks off? Who are they, the L.A. Galaxy?
5. Seattle Sounders (+3)
- Good job guys. 4 points off a Charleston/Atlanta trip. Now they have to head all the way back to the East Coast for Friday's FSC match against the JailHawks before 2 straight games at the Qwest. Man, I'd hate to play in this league. Too much traveling.
6. Carolina RailHawks (-1)
- Argh. Twice had a lead against Rochester at home and couldn't hang on. I think the good news is that nobody picked up a red card and there weren't any serious altercations, at least not that I heard of. "Now boys, you play nice on Friday! A lot of people are going to be watching on TV and I don't want you to get into any mischief!"
I really should get paid for the next half of these rankings. I mean, how can you separate these teams? They all look equally shitty to me. It's a shame that at least two of these teams are going to make the playoffs.
7. Puerto Rico Islanders (+2)
- Yeah, I know. You beat Miami 4-1 on Saturday ON THE ROAD. I know that's a big step for you guys, considering how lousy you've been in the franchise's short history away from home. But I was watching USL Live and I swear I saw half of Miami's team donating blood and the other half partaking in the free beer before the game.
8. California Victory (+4)
- They WON. THEY BEAT VANCOUVER!!!!!!!!!!!! They picked up four points this weekend. Four points = four spots up in the rankings. Do I think they're this good? No, but they played a hell of a lot better than the teams behind them. Three straight on the road doesn't look good for them. In other news, it seems Patrick Ianni pulled a Rasheed Wallace, as he was with the Victory as long as Wallace was with the Atlanta Hawks. I guess Kinnear forgot about this little thing called the Gold Cup.
9. Charleston Battery (-3)
- Shoe said we'd revisit things after Thursday's game against Seattle and here we are. A 2-1 loss at home. Now they get the dreaded Montreal-Rochester trip this weekend. Let's hope they bring the jumper cables on this trip.
10. Miami FC (-3)
- Free beer never worked for the Silverbacks, and it sure didn't for Miami FC. Supposedly they drew 1,210 for their Thursday game against Puerto Rico, then 1,331 for Saturday's game. All the promotion only brought an extra 121 people out? Shame on you. The Over-40 Brazilian NT isn't looking good right now. So I guess they're just rooting for Jean-Jacques Guillaume and Haiti in the Gold Cup.
11. Atlanta Silverbacks (-1)
- Yes, I think they played better than in their previous games. But they didn't win. They didn't score a goal. Ryan McIntosh looked good. Dan Antoniuk has to be the most frustrated player in the league right now. I feel bad for the guy, nobody's creating anything for him. He's being put at the top by himself and asked to do everything. Hey Jason Smith: I know Millwood is injured right now, but if Warren Ukah was good enough to start last year, why not put him up top with Antoniuk? I'm expecting an answer after he gets out of Soccer 101 classes.
12. Minnesota Thunder (-1)
- Our buddies over at
duNord
don't deserve this. Miami and California come to the Griff in the next two weeks. I know this team is better than this, let's just hope they can start showing it.