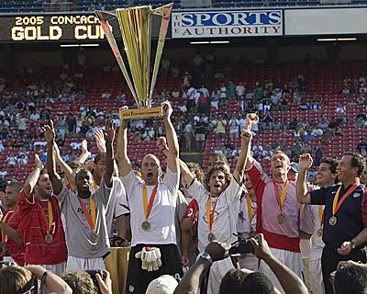 I've really been enjoying the Gold Cup this year, more than any other edition I can remember. For one, I think the overall level of competition in CONCACAF has risen greatly recently. Even the minnows aren't easy games now (hello, Guadaloupe). Some of my favorite things so far...
My favorite game was the Canada-Costa Rica opener. I've never seen a Canadian team play with the skill that they showed. The Mounties are going to be tough to deal with when they get the Double De combo firing. De Guzman has been a revelation in this tournament, and we all know about the greatness of DDR. Costa Rica really needs to make some changes, although they did have a couple of key injuries right before the tournament. Is Medford ready to coach at this level?

I posted my thoughts about the US-Guatemala game earlier, but it was a really interesting one to watch as well. Say what you will about their tactics, the Guatemalan team was very well coached and knew exactly what their coach expected from them. They made life as difficult as possible for the US.
The Yanks second game with Trinidad was fun to watch, but sloppy as hell. It was like watching a drunken garage band trying to get through a concert. All in all, not too shabby for essentially the US 'B' team.

Mexico has definitely been the disappointment of the tournament. How long until Hugo Sanchez really starts feeling the heat? They easily could have lost to Cuba and Panama, and deserved to lose to Honduras (with or without Cuau's moment of madness). Their quarterfinal with Costa Rica will be the battle to see who's disappointed the most.

It's fun to see a team like Guadaloupe in this tournament, playing with absolutely nothing to lose. They're just having a good time out there. Sorry for them, they get Honduras on Sunday in the quarters. Honduras should win with ease, they're flying right now.

Panama losing their head at the end against Mexico will definitely help the US on Saturday, those two red cards should come back to haunt them.

The Guatemala-Canada game should be an interesting chess match. I think Guatemala can shut down the Canadians, but can they generate any offense?
My winners for the weekend are the US, Honduras, Mexico, and Guatemala.