Tying in two of our loves (well, besides cupcakes and Samuel Adams), here goes the 3rd installment of the Power Rankings.
Eastern Conference
1. Chicago Fire is The Ultimate Warrior
Remember Wrestlemania VI? Well, The Ultimate Warrior was top of the heap, WWF Champion. Watching the great DVD put out by the WWE, The Rise and Fall of The Ultimate Warrior, it finally clicked that The Warrior came to rise to the top of the federation while being one of the worst technical wrestlers and equally bad to work with. The Fire don't do anything flashy. They just get it done, and a 2-1 win against Kansas City, who looked great against D.C. United the week before, counts as getting it done. Top of the roost right now.
2. New York Red Bull is Lex Luger
When I was a kid, Luger toiled around in WCW. Hell, I remember him being the US Heavyweight Champion for what seems like forever, but he never became the champion until Ric Flair decided to go to WWF and have the belt with all that blurry stuff over it. Right now the Toros Rojos are hanging around with some good results, especially after coming back from a man down. Altidore put Houston in the Human Torture Rack with his goal to give New York a huge victory.
3. Kansas City Wizards are the WCW mid-carders during the reign of the NWO
Dean Malenko, Chris Benoit, Chris Jericho. All of these guys never got a shot during the reign of the NWO, which WCW fumbled. They didn't know what to do with these guys and they turned around and got giant pushes from the WWF after WCW's demise. I really don't know what to do or think of the Wizards, so this is the comparison I'm making. They looked great against D.C. but were dumped out of the US Open Cup by Real Salt Lake before losing at Chicago on Saturday. Like the aforementioned wrestlers, it seemed like everytime they do something good, something bad happens to them. Don't worry: The Wizards are getting their WWF push on Wednesday when they host Toronto.
4. New England Revolution is Kevin Nash jobbing to Rey Misterio
A match that will always stick out in my mind because if you look at them, HOW THE HELL CAN SOMEONE SO SMALL BEAT SOMEONE SO BIG? Nash taking the job that night showed that he did what he was supposed to do, much like the Revs. Three games, one at home, two on the road. They crushed Toronto at home and have come away with a draw and a loss on the road. They're following the script right now and if they continue, a hard-fought draw against Dallas on Sunday will be in the cards.
5. Columbus Crew is The Million Dollar Team
Survivor Series 1990 anyone? Ted Dibiase kept saying for weeks that he would have a "mystery partner" to go along with Greg Valentine and The Honky Tonk Man. And who walks out?
The debut of The Undertaker. I remember being a kid and being scared as hell of this guy. He was a scary mofo when he first debuted. I think that Columbus is the same way. Nobody really knew who The Undertaker was when he debuted, as is the case with US soccer fans and Barros Schelotto. The guy's a legend in Argentina and I think will be one of, if not the best, designated player signing in the league. But I don't think he'll get a red card in his first match for continually pounding on Dusty Rhodes while chasing him back to the locker room. Although that would be pretty sweet.
6. D.C. United is Rocky Maivia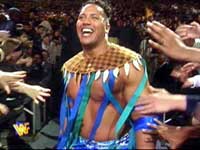 Rocky came in with a bunch of hype, a 3rd-generation wrestler who had a name to live up to. But his first gimmick was a joke and it wasn't until he joined the Nation of Domination and got some mic time before he turned into what everyone knows him as, The Rock. D.C. is having a similar identity crisis. Always picked as one of the top teams in the league, the signings of Luciano Emilio and Fred left expectations high, but two losses to open the season have people wondering: "When will the real D.C. United step out of their shells?"
7. Toronto F.C. is The Shockmaster
Anybody who can't see this doesn't know their wrestling history well enough. In one of the worst introductions ever, The Shockmaster debuted at a Clash of the Champions and proceded to fall flat on his face while breaking through a wall, with his helmet coming off to reveal his identity. From then on The Shockmaster became a joke as bookers quickly changed his gimmick, trying to push him as a big klutz, which obviously didn't work. Mo Johnston is currently playing the role of a WCW writer with all the changes he's made to his team after just two games. Unfortunately, I don't think there's any turning around this trainwreck in their first season.
Writer's note: I don't think I'll ever be able to top mentioning The Shockmaster in a soccer blog.
But alas! We must move on to the:
Western Conference
1. Chivas USA is Stone Cold Steve Austin
The baddest man on the planet. Anybody who didn't like seeing Stone Cold beat people's asses and drink beer probably doesn't like Rage Against The Machine and probably has a prescription for estrogen. Right now Chivas USA has that swagger that Stone Cold did everytime he walked into the ring. They showed the great disparity between their fellow expansion buddies with a 4-0 win on Saturday. Maykel Galindo got his first two goals, Ante Razov scored his 100th goal and even The Rooster tickled the twine. If I were the Galaxy, I'd be very afraid come Saturday. Goats 3:16 anybody?
2. FC Dallas is Tito Santana
The Flying Burrito is the greatest name for a finishing move EVER. Although they don't have any Mexicans on the team, many can be found around Dallas, and they DO have Adrian Serioux, so he can be the Canadian half of Strike Force. Ramon Nunez delivered two flying burritos to Colorado on Sunday and Dominic Oduro finished off the Rapids. If not for a blatant handball by Jovan Kirovski, Shaka Hislop would have had the shutout. A stat for you: 14 goals have been scored in Dallas' four games. Unfortunately they don't play Houston for awhile, as there have only been two goals in the Dynamo's three games.
3. Houston Dynamo is Vader
Vader was a bad man when he was Big Van Vader. I remember seeing him in WCW, with those ridiculous smoke-shooting shoulder pads and thinking that this guy was unbeatable. He was a monster. Then he went to WWF and towards the end of his career, ended up on the midcard feuding with idiots like Goldust. What happened to this guy? He never was what he was over in Japan. That's the way I feel about Houston right now. When the season started, I saw these guys as giants, a tough team to beat. Now they're stuck on the midcard, up there with D.C. as the most disappointing teams thus far. I've even dropped DeRo from my fantasy team. They look unspeakably bad right now, and Chicago will be a tough test for them on Sunday, even at home.
4. Colorado Rapids are the anti-USA Bret Hart
Bret Hart will always be loved in Canada. But during this angle, where he even compared the shape of the United States to a toilet bowl, he was hated in the States. Colorado is the same. Two sides of the spectrum in regards to home. They looked great at The Dick in their first two games but looked pretty bad at Pizza Hut Park on Sunday. Their next home game doesn't come until May 5, so we'll see if this trend continues.
5. L.A. Galaxy is WCW-era Warrior
All hype and no substance. Bischoff gave Warrior a chance to ride the WCW tide but ended up being one of their biggest busts. His 5-hour diatribe during his debut on Nitro was the first nail in the coffin. He looked terrible in the ring and turned out to be a waste of money. Right now the Galaxy doesn't look any better. They brought in Jaqua and Cannon, still have Landycakes, but look less than average right now. The Galaxy is the team whose name was on the lips of every non-soccer fan in the US before the season started and haven't lived up to the hype so far. Hopefully they won't be buried by the time Beckham arrives.
6. Real Salt Lake is The Brooklyn Brawler
When you think of all-time jobbers, The Brooklyn Brawler has to be up there. The Brooklyn Brawler never had a chance of winning any titles and was always fodder for any superstar, any midcarder or anybody they wanted to put over. Real Salt Lake is the glorified jobber of the league. Yes, even worse than The Shockmaster/Toronto FC. And I say this because the less than Royal Mormons looked absolutely terrible on Saturday night. Nick Rimando shoulnd't be benched, he should be banned from the league, he's looked that bad. Adu can't wait to hop on a plane to head overseas and leave this mess behind. If I was him, I'd go anywhere. Israel, Iceland, wherever. Just far, far away.