"Interim" coach Bob Bradley leads his USMNT into Tampa to take on Ecuador today. Bradley's 2-0 on the job, with two more games this week to prove his worth.
Today's US lineup:
--------------------------------------Howard----------------------------------------
Cherundolo----------Conrad---------------------Onyewu--------------Bocanegra
-------------------------------------Feilhaber---------------------------------------
------Dempsey--------------------------------------------------Beasley-------------
-------------------------------------Donovan-----------------------------------------
----------------------Johnson---------------------Ching------------------------------
The bench today is Keller, Spector, Bradley, Carroll, Mullan, Mapp, Twellman. Spector can play anywhere along the backline, and he's the only
defensive sub. Either Bradley or Carroll will get some time for Feilhaber. Twellman will come on for one of the forwards, probably Ching. Mullan and Mapp are options for the wide midfielders.
I wonder how Kasey feels about watching T-Ho.
My keys to the first half with this lineup:
Can Feilhaber hold down a d-mid spot at this level? He was the most impressive American during the last U20 World Cup for me, but this is another world.

Eddie Johnson, will he remember how to play? How many more chances will he get if this one goes badly?

12:00:
Dave O'Brien, Waldo, and The Bruce are in the booth. Shouldn't Arena still be with his Red Bulls in Charleston? Bruce says the midfield and forwards must impress today. Waldo says he wanted to see if Feilhaber could hang with Mexico, Bradley disagreed and wanted to blood him against Ecuador instead. O'Brien makes fun of Waldo for disagreeing with a coach.
12:04:
Why aren't the shorts pinstriped like the jerseys? They do look a little better than I thought they would, but I'm not sold yet.
12:07:
The field doesn't look so good, DOB says the field might be a "challenge".
12:08:
DONOVAN SCORES. Weak clearance falls to Landon and he rips a shot into the far side netting with the outside of his left foot. Excellent goal within one minute.
12:10:
Awful cross by DMB, but good ball movement to set it up.
12:11:
DMB loses a 50/50 ball at midfield, but Gooch cleans up the mess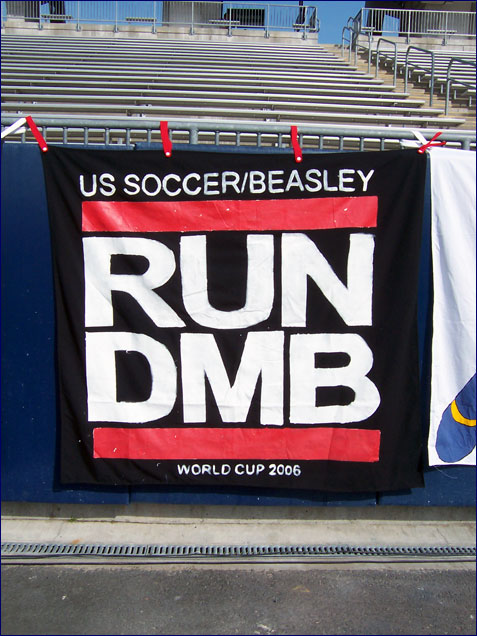 at the top of the box. Ecuador is trying to get some momentum back.
12:13:
Conrad clears away an excellent cross from the right. The game is very wide open at this point, and a bit sloppy.
12:14:
Howard makes a great 1v1 save. Prior to that, Waldo calls Donovan's comments about wanting to be with the Galaxy this summer "an excuse".
12:16:
Ugly miscommunication between Gooch and T-Ho leads to an Ecuador FK outside the area. Header goes wide, little trouble.
12:17:
Deuce pulls a sweet juke on the endline, but the cross is useless.
12:18:
ECUADOR SCORES. Salcedo scores after some really sloppy defending on the left wing and in the middle. Gooch looked lost.
12:21:
Nice FK by Donovan leads to a corner. Second corner after a header away by Ecuador. Eddie Johnson puts the ball into the stands after the linesman blows an offside call.
12:23:
Dempsey and Cherundolo are having problems defensively on the right side.
12:25:
Beasley loses the ball, but fights to win it back. Foul called, then Donovan gets clocked at the end of it.
12:26:
The backline looks really shaky. The Bruce and Waldo agree. Bruce says Feilhaber needs to support them more.
12:27:
Feilhaber loses the ball again, I'm starting to wonder if he's in over his head.
12:29:
Yellow card to Feilhaber for a tackle from behind, at least he's doing something.
12:30:
They're discussing Benny walking on at UCLA, and mention that Bornstein and Cobi Jones were also walk-ons at UCLA. The Bruce wastes no time to bring Claudio Reyna into the conversation, for no reason whatsoever.
12:31:
Excellent turn and ball from Donovan, but then Eddie Johnson gives the ball away with a stupid attempted cross to Ching that isn't even close. Johnson looked scared and like he wanted no part of having the ball at his feet.
12:33:
Another excellent ball from Donovan, but Johnson tries to cross instead of shooting on goal. DMB can't direct the cross on goal.
12:35:
Conrad makes a nice tackle in the box to block a shot. The backline still looks very unsure of themselves, but Ecuador does look awkward as well.
12:37:
The Ecuadorian siege continues, with "horrible" clearances helping Ecuador out. Gooch and Tenorio battle in the box, giving Ecuador a corner. Feilhaber clears the header off the line.
12:39:
Nice combination, but the final ball from Dempsey is too fast for Landon to handle. We learn that it's over 120 degrees on the field.
12:41:
Eddie Johnson loses the ball again at midfield, blowing an easy touch through to a streaking Donovan. Eddie needs to go at halftime. Of course, The Bruce disagrees and says that Eddie will catch Ecuador at some point.
12:42:
Feilhaber earns a FK. Cherundolo's shot from about 35 yards is just a little high.
12:44:
Benny with a giveaway at midfield, but Donovan is able to win a FK. Dempsey attacks and earns a corner. Donovan gets the ball back after a poor corner, sends in a nice left footed cross, Conrad heads it back across, and Ching heads on goal, but it's saved. Ching gets kicked in the face on the shot though and is down.
12:46:
Ching's up, walking off the field, but he has a busted nose or mouth. Twellman and Bradley are warming up.
12:48:
Twellman looks like he's trying out for Riverdance on the sideline.
12:49:
Eddie Johnson with a horrible effort on a goal kick from T-Ho, then he cries about a foul. Ching is back on for the US, no dancing for TT.
12:51:
Boca gets smoked on the outside and a dangerous cross is cleared out of the middle.
12:52:
Uh-oh, Waldo has a new feature at halftime... Red Card/Yellow Card
12:53:
Beasley gets off a decent shot, right at the keeper. Ching gets the ball back and sends in a nice, hard, low cross that somehow finds DMB. He misses Landon charging on and gives the ball away. Conrad commits a professional foul to stop the counter at midfield.