Two USL First Division teams hope to do a little better than their MLS counterparts last night as the Montreal Impact take on Real Esteli at home and the Puerto Rico Islanders travel to Costa Rica to counter Alajuelense in the nightcap. Stay with us all night, as we'll also be here for the Silverbacks-Whitecaps game.
Innocent start to the Montreal - Esteli game, with another nice crowd at the Stade Saputo. Montreal's been playing a lot better in league play, as they're making a late charge for a playoff bid. 4 wins in 5 games in August will do that.
I saw a nice piece on Mauro Biello of the Impact on USL Breakaway, I didn't realize that guy had been with Montreal for something like 89 years. Seems like a nice guy and a great ambassador for the club.
Bad goalkick from the Esteli keeper nearly leads to a good chance for Montreal. I'd still take him over Zach Thornton anyday.
Speaking of last night's games, I couldn't stand to watch the 2nd half of Cruz Azul's 6-0 thrashing of Hankook Verdes. Whatever that horn was, it ruined the whole game for me. I'll still be interested to see what kind of stadiums in Belize, so I'll be watching next week's game. Oh wait, nevermind.
I also forgot that Metapan and Marathon are playing tonight, but I'm not seeing it anywhere on my TV schedule. Looks like the Mexican League's
doble jornada
is taking preference on Galavision and Telefutura.
Quarter of an hour in, neither side with an attempt on goal as of yet. Montreal's dominating possession, with a couple of unnecessary yellows handed out, one for each team so far.
Dude, this ref is a total
tarjetero
, handing out cards left and right.
Still no shots on goal for either team, so let's talk about
everyone's favorite soccer team
. I bet they wish Vancouver had won Canada's spot into the CONCACAF CL so they could get some time to heal, but not to be. I can't wait until they put out the press release in 5 years saying "Kandji granted green card", because that's about how long it's going to take. He'll probably get it long after he's gone from here.
Back to the game, Gjertsen picks off a ball and makes a good move but fires a weak shot that the Esteli keeper saves easily.
As I'm checking on finding tickets to the sold out
Girl Talk
show in Atlanta, Esteli comes down and gets a quick shot on goal that Jordan saves. Meanwhile at the other end, a through ball for Gjertsen is bumbled by the Esteli keeper, but the ref blows the play dead. Someone's going to break through soon.
Montreal's starting to get frustrated. Overzealous and late challenges aren't going to do them any favors with the ref.
BUT!!!!!! Out of nowhere, Montreal takes a 1-0 lead. A cross from the left not cleared properly comes out to the top of the box where Gjertsen slams it into the side of the net. Told you a goal was coming...
(For those unfamiliar with French, a but is a goal. I remember watching France WCQs on the French channel when I lived in Spain and seeing it flashed on the scoreboard at the Stade de France.)
Other people seem to be chiming in on our comments section, it's surprising that he can't do anything by himself. Hell, I thought he didn't need friends anymore now that he has an iPhone. I mean, how many times have I asked this kid to go to Silverbacks games this season?
Halftime has arrived, with Montreal leading 1-0. My
Flying Coffin
package has arrived (2 for 1 sales RULE), and I'm off to get some dinner. I'll turn it over to Shoe for a few minutes.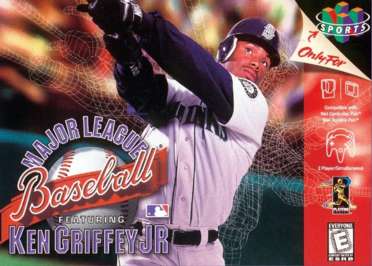 As Ken Griffey Jr. so awesomely put it on his first Nintendo 64 game, "I'M BACK!" Still 1-0, with more to come. ECB is still sulking, hopefully his tears don't ruin his iPhone. Just as I'm typing this, Gjertsen rockets one just outside the right post and Roberto Brown has a shot blocked. Montreal is dominating, looking to put this tie away before heading to Nicaragua.
Off a corner, Di Lorenzo has a nice left-footed shot that's well saved by Mendieta. I have a feeling Esteli will be jumping for joy if they can keep this 1-0 heading back home. They just haven't really shown anything offensively.
Commenting on a comment, Marcos iz good peeps. He's known my Dad since before I was born. But as far as the USL/MLS thing, a good showing by Montreal certainly won't hurt their aspirations for a MLS franchise.
Hahahaha, I enjoyed this comment from an anonymous poster on
Sideline Views' take of last night's MLS performances
:
"The argument for MLS sides has always been that if the CONCACAF Champions' Cup wasn't during the MLS preseason, then MLS teams would fare better. Now the CONCACAF Champions' League is during the MLS mid-season and they've actually managed to perform worse."
Wow, Montreal almost makes a mess of that. First, ref misses a handball at the top of the box that would have given Esteli a great position for a free kick. Then Jordan punches a ball away straight to an Esteli player, whose shot takes a deflection and goes out for the Nicaraguans' first corner of the game, in the 74th minute. Shows how much they've pushed forward.
Another great buildup from Esteli, as a player drives down the right. His cross finds a teammate right in front of goal inside the 5-yard box, but unfortunately he handles it before he can put it in. Unlucky.
Testo has a left-footed shot that takes a deflection and is saved by Mendieta. Esteli player booked for diving. This game isn't ending too pretty.
Wow, just as I type that, Montreal comes in and has a 1 v 1 with the keeper, only to shoot it right at him.
Nice. 87th minute. I don't know what the announcers are talking about, but am I the only one who saw a penalty there? The foul took the Esteli player out of the box. Now a free kick from right outside the box........................and the ball is hit into the wall which was standing about 5 yards away. Great job ref.
Well, first leg done and Montreal keeps a 1-0 advantage going to Nicaragua. They're still going to have some work to do, as it won't be easy. Another goal would have done them wonders, and if they fail to advance, they can blame their lack of finishing, considering they dominated play for most of the game.
Game on in Costa Rica, as the Islanders (with BILL GAUDETTE, ACCEPT IT SHOE) are up. Gaudette comes out early and breaks up a 1 v 1 with his feet. Judging from the early dustups, to me it seems this game could degenerate into one of those crazy Libertadores or Sudamericana games where we end up seeing 3 red cards and just a dirty, dirty game.
Meanwhile in Vancouver, the Silverbacks look like they actually have 11 healthy players WITH VISAS to field a team. 13th minute, 0-0. All I've seen is a bunch of Vancouver corner kicks, and I'm right, that's 6 already.
I highly doubt we're going to get a Metapan-Marathon score tonight. Just look at
Metapan's website
. Their scouting report for the game says (in Spanish): "We don't know much about this team, but without a doubt they'll be tough." Awesome.
Still 0-0 in both games. Gaudette's been a busy man, Puerto Rico looking to break the offsides trap and steal a goal.
In Vancouver, not much going forward for the Silverbacks. They'll be lucky to escape with a point. Nice description from USL Live about the game: "Atlanta Silverbacks return full force to challenge The Vancouver Whitecaps." Full force my ass.
Alajuelense takes a 1-0 lead through former Revolution player Argenis Fernandez. Seconds later, Lyle Martin puts Vancouver up 1-0. Puerto Rico needs to get a little more possession, Alajuelense is punishing them right now. And the Silverbacks have a corner.
Corner comes to nothing, which is about what the Silverbacks have done tonight. Just looking at their faces it seems as if they've already accepted their fate. I'm not even going to waste my time trying to make sense of how their playoff aspirations have gone out the window. But once again, I really don't think it has much to do with the players.
In Costa Rica, Gaudette makes a great reaction save off a free kick. All the Islanders seem to be doing is playing to ball long to Fabrice Noel and hoping he scores a goal. Even when he tries to hold the ball and wait for help, none comes.
Halftime in Vancouver with the Whitecaps up 1-0. I'm just thinking about how bad I feel for some of the really good guys on the Silverbacks. A lot of this stuff this season hasn't been their fault, and I'm sure they'll all be disappointed that a return to the Finals is pretty much out of the question.
Halftime in Costa Rica also with Alajuelense up 1-0. Puerto Rico has had few chances with a couple of shots going wide. I'm going to take a little break.
Back in action on both fronts, and Sebrango goes in alone on the keeper but takes too wide an angle and shoots wide of the far post. Meanwhile, Puerto Rico is still struggling to build anything positive. They're just hanging on at the moment.
A little better from the Islanders, who have a corner kick...............GOAL!!!!!!!!!!!!!!!!!!!!!!!!!!!!!!!!!!!!!!!!!!!!!!!!!!!!!
UNBELIEVABLE, no way they deserve it, but Telesford's in the right place at the right time and flicks it in.
That's it, I'm going to put on my Puerto Rico jersey. YES, I HAVE ONE
Speaking of KICK IT HIGH, KICK IT FAR, the Silverbacks are now down 2-0 thanks to Eddie Sebrango. I'm turning this crap off, it's too depressing.
I'd love to see the Silverbacks play the Galaxy, final score would be something like 11-8.
OOOOOOOOOOOOOOO.....Gaudette saves the bicycle kick that was dipping in the top corner. Like him or not, Gaudette actually fits in pretty well with this team, gives them a little bit of an edge.
A good note from the commentators: If Puerto Rico hangs on, it'll be the first draw in this round, as all the home teams have won their games so far.
Bill Gaudette is my new hero. Floating ball into the box, comes out and grabs it with a little contact from an Alajuelense player, falls on his shoulder and writhes in pain. He's hopping mad and I'm laughing my ass off.
Another dicey moment for the Islanders, as a free kick goes off the side netting.
Well, Alajuelense was penalty-hunting, and they manage to get one. Unbelievable. The ref let them play, let them play, but finally gave a dodgy one. Grow a pair son.
HAHAHAHA, YESSSSSSSSSSSSSSSSSSS!!!!!!!!!!!!!!!!!!!!!!!!!!!!!! GAUDETTE IS GONNA GET SOME MAD PUERTO RICAN HONEYS!!!!!!!!!!!!
Most important figures in recent Puerto Rican history?
1. Roberto Clemente
2. BILL GAUDETTE
3. Daddy Yankee
BEST GAME OF THE ROUND
I TOLD YOU NON-BELIEVERS, THE ISLANDERS WOULD SURPRISE
BILL GAUDETTE IS A NATIONAL ICON - BUILD THAT MAN A STATUE