These are almost impossible to do, with the roster turnover and the unknown players who pop up across the league. Here goes nothing...
SEATTLE SOUNDERS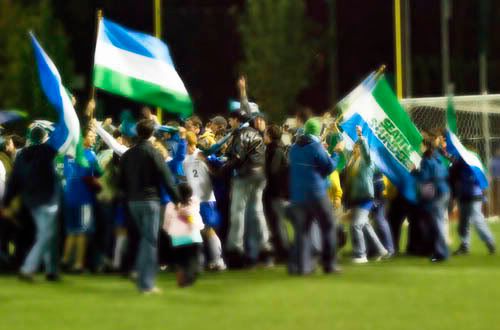 They're returning all of their top players, with the expectation that some of them make the jump to MLS in 2009 along with the team name. MVP Sebastian Le Toux will lead the attack with goalkeeper Chris Eylander looking to continue his great form from late '07. If Le Toux scores like he did last year, and Hugo Alcaraz-Cuellar sets the pace, there's no reason to think that the Sounders aren't the team to beat.
How much more motivation do you need than playing for a 2009 MLS contract?
ATLANTA SILVERBACKS
A fair number of roster changes in Atlanta, but they look to be pretty positive for the most part. Blake Camp comes home after a few years with the Red Bulls' reserves, Jerson Monteiro joins after splitting time between Chicago and DC last year, and USL veterans Zach Kirby, Nathan Knox, and Ansu Toure also join the fold. Rookie Andre Sherard will be interesting to watch, he was highly touted at UNC, but struggled in the MLS combine and his stock fell to becoming a supplemental draft choice. If he regains his college form, Atlanta could have hit the lottery.
The new faces might take some time to gel, but the quality is there for another long playoff run in Atlanta. It will be fun to see how all the pieces fit together this year.
PORTLAND TIMBERS
My big concern with the Timbers is the loss of keeper Josh Wicks to the LA Galaxy. Ray Burse has been brought in on loan from FC Dallas, but he's still a little inconsistent. I really liked what I saw out of him last season, but what happens in Portland if he gets recalled? They're trying to make up for the loss of Wicks with the signing of Takayuki Suzuki, formerly of the 2002 Japanese World Cup team. You might not know his name now, but big things are predicted for Suzuki.
While they might lose a little from their stifling defense, Suzuki should make them more of a threat going forward. How will he mesh with what was predominantly a long ball attack though?
PUERTO RICO ISLANDERS
The Islanders made a great run to the semis last year, Colin Clarke's arrival definitely signalled a change in fortunes. While they're losing defender Jay Needham this year, most of the core veterans will be back. Danger man Petter Villegas is back, but a year older. I'd like to see Fabrice Noel get more of a chance, I always liked him in Colorado.
The issue will be how they manage the brutal road trips, it's hard to get any consistency when your travel is so rough.
MONTREAL IMPACT
Charles Gbeke is back to lead the attack, and is joined by young Canadian star midfielder Christian Nunez and former California defender Luis Aguilar. They've also added a couple of MLS castoffs in Pato Aguilera (Columbus) and Dwight Barnett (Chicago).
With their new stadium and sponsorship deals, Montreal has the means to afford the best roster in the league. Will that result in a championship?
VANCOUVER WHITECAPS
They started out strong, but faded horribly as the season went on. A new coach (former Estonian manager Teitar Thordarson) and a new playmaker (Japanese World Cup player Takashi Hirano) should prevent last season's disappointment from happening again. A healthy Eduardo Sebrango will also help, as will the reinforcements from DC United (Nicholas Addlery, Jay Nolly, and maybe Justin Moose). They also added Omar Jarun from the Silverbacks.
In addition to league play, Vancouver and Montreal will be busy with CONCACAF Champions League qualifying, playing a double round robin with Toronto FC to determine a Canadian representative.
ROCHESTER RHINOS
No longer Raging, but at least they're still breathing. It was a rough offseason in Rochester, with the team near death more than a few times before being saved at the last hour. New coach Darren Tilley, along with player/assistant coach Steve Guppy, have their work cut out for them. The new ownership seems to be making the right moves to rebuild the franchise, with the exception of the new logo. Now we get to see if the players can live up to their end of the bargain. Hamed Diallo is back as a leading goal-getter, with Matthew Delicate, Johnny Menyongar, and T-Bone Bonseu providing a nice supporting cast. We'll see about their depth...
CAROLINA RAILHAWKS
The team was built on defense last season, and have now added USL-D1 leading scorer Dan Antoniuk after his falling out in Atlanta. Unfortunately for them, he's still active in the MISL playoffs and hasn't been in training camp yet. I'll be interested to see former Georgia Perimeter star Martin Nunez with the team, he lasted a long while in camp with the Red Bulls. This team definitely should score more goals in '08.
MIAMI FC
Zinho has retired and is now the head coach in Miami. He's using his contacts to bring in some new talent, we'll see how that pans out. One big signing they've made is bringing in Josh Saunders to start in goal, he was a standout for Puerto Rico last season. They've also added Jarryd Goldberg from Boston University.
MINNESOTA THUNDER
They have nice new uniforms and a nice new crest, but not much else. Tighe Dombrowski returns to the team from Sweden. Stephen DeRoux joins the team after some promising moments with DC United, I always liked him, but he was never able to win a consistent job. Dayton O'Brien was acquired in the Ansu Toure trade with Atlanta, let's see if he can stay healthy and contribute. We'll see if these new pieces can improve Minnesota's woeful form over the last few years...
CHARLESTON BATTERY
MLS ex-pats join the Battery in defense, with Marco Reda and John Wilson joining up. Veteran goalkeeper Dusty Huddock will be quite pleased with the additional help, defense was Charleston's biggest problem last year. One of last year's Cuban defectors, Lestor More, also joins Charleston. He's the leading scorer for Cuba's national team. Rookie Dominic Cianciarulo from Furman also joins the attack, he had 2 goals in the season opener against Miami.