There's been plenty of great MLS previews around the blogosphere, so I figured we had to take things in a different direction here in the Bakery. So, in fine blog tradition, it's time to compare two things from two different worlds. Cue Real Life's "Send Me an Angel" and put on your Hypercolors, it's time to go Back to the '80's!
In no particular order...
Houston- Chris Parker (Adventures in Babysitting)
No matter what keeps getting thrown at them, the Dynamo just keep getting the job done
The Dynamo are just a solid team. They're not that flashy, they don't score tons of goals, their goalkeeper doesn't make all the highlight reel saves, they just flat out get the job done. Two titles in the books in two years in Houston, can they get number three in 2008?
Their depth at forward is a little disconcerting. Coach Kinnear hopes that young Argentine Caraccio can make up for the loss of Ngwenya and Jaqua. If Bobby Boswell can put down the laptop long enough to remember how to mark players, he'll be a great replacement for Ryan Cochrane.
Houston will definitely be in the mix for MLS Cup 2008. They'll find a way.


New England- Caroline Mulford (Sixteen Candles)
This should be the year that the Revs fall out of the list of
contenders
The Revs have been near the top of the heap for quite a while now. They got back to the final last year after losing Clint Dempsey when no one really thought that would be possible. Now, they've lost Pat Noonan and Andy Dorman. They've barely replaced these guys.
It looks like they're going downhill to me. It's going to be up to Twellman, Ralston, Parkhurst, and Reis to keep the Revs in the upper tier. They still have the talent to be a playoff team, but I think their title contending days are past them.
DC- Scott Howard (Teen Wolf)
United has bulked up in pursuit of MLS Cup 2008, but can
they stay in control of a tough schedule?
Gallardo, Martinez, Peralta, Neill, Carvallo, Wells. DCU definitely showed this offseason that it isn't satisfied with back-to-back Supporters' Shields. They're looking for more trophies, both domestically and internationally. The players are there to do it, but they'll have to face a tough schedule with MLS, CONCACAF, SuperLiga, and the Open Cup.
United showed how tough they can be in the second leg against Harbour View. Gallardo, Emilio, Fred, Moreno, and Neill will be tough for MLS defenses to handle. I do wonder how this group will hold up to the physical play in MLS. Can they adjust from their ball control style where needed? Can they finally get over the hump and win an international trophy?
On paper, I think United is the best in the league. Games aren't won and lost on paper though...
LA Galaxy- Amanda Jones (Some Kind of Wonderful)
The glitz, the glam, the beautiful people, welcome to your 20
08 Los Angeles Galaxy


Things will definitely be better for the Galaxy in 2008. Could they really be worse? Beckham will be here from the start this time around, and will bring El Pescadito with him. Ruiz and Donovan should each have over ten goals, with Beckham among the league leaders in assists.
The issues, as everyone have pointed out, are on defense. With so much money tied up in three players, something had to suffer. I think Cronin will be a solid keeper at this level, but he's really going to be tested this year. Chris Klein will have to keep playing over his head in the back to help the team.
The Gals should be lots of fun to watch in '08. The playoffs are a strong possibility, but I don't know about much more than that.
Chivas USA- Watts (Some Kind of Wonderful)
The Gals' less attractive league-mates, but the Goats are far more likely to end up with the glory at the end of the year
The increased depth at forward with Esky and Attiba Harris should prevent a repeat of 2007, when injuries to Galindo and Razov killed Chivas' chances in the playoffs. I'll be intrigued to see what Raphael Wicky brings to the table as well.
The defense remains strong. One worry is the loss of Preston Burpo. Without an experienced back-up, what happens if Brad Guzan gets injured or misses time due to national team commitments? This could be a developing situation.
They might not get the love in LA, but Chivas is definitely the better team playing at the Home Depot Center. Popularity is nice, but let's see who ends up with the better season.
Colorado- C.D. Bales (Roxanne)
The arrival of Christian Gomez should overcome the coaching
issues to lead to a playoff berth for the Rapids
I can't figure out why Fernando Clavijo was retained after last season's poor performance. He seems like a liability at this point. However, bringing in a player with the quality of Christian Gomez gives the Rapids the chance to overcome the deficiencies of Clavijo.
They have some offensive options, with Omar Cummings, Conor Casey, and Herculez Gomez all able to score goals. The defense should be solid, with Bouna Condoul returning from the African Cup of Nations.
The playoffs are very likely for Colorado, I think they have too much talent not to make a push for that.
Dallas- Terry Griffith (Just One of the Guys)
What's going on under the Hoops?


FCD had more talent last year and didn't do all that much. What will change that in 2008? The emergence of Ricardinho and Dominic Oduro could be enough, but what will we actually see out of them? It's just hard to tell.
Kenny Cooper starting the season healthy will be a good thing. Arturo Alvarez and Drew Moor should continue to improve. I also won't be surprised if Ray Burse ends up as the starting goalkeeper before the season is out.
If the youngsters develop quickly enough, Dallas will be a handful this season. If not, it will be a long year at Pizza Hut Park. I don't know...
Salt Lake- Cru Jones (RAD)
Can the plucky upstarts make the playoffs this year?
RSL starting putting things together late last year. Jason Kreis started learning how to coach, and three young Argentines improved the quality of the roster. New GM Garth Lagerwey has added even more talent going into 2008.
Kenny Deuchar is coming over from Scotland to join with youngsters Espindola and Findley in the attacking corps. I'm looking forward to seeing the continued development of players like Beckerman, Sturgis, Seitz, and Movsisyan.
I'll be trying to catch as many RSL games as possible this year to see how they do, I'm intrigued.
New York- Monroe Clark (Side Out)
It's been a long learning process, but Osorio should take the Red Bulls to the level of the elite
Just like he did with the US at the 2006 World Cup, Bruce Arena didn't get the most out of his talent in New York. Altidore and Angel should be the league's best striking tandem. The loss of Dane Richards to injury will set the Red Bulls back a bit, but they have strength up the middle in Reyna, Stammler, and Magee.
There are some holes here for sure, but Osorio is a good enough coach to cover them up. I'd be willing to bet that the Red Bulls aren't done in the transfer market either. If they get the playmaker that they're after, the rest of the league better look out.
Chicago- Mercedes Lane (License to Drive)
Looking good on paper, can they live up to the hype?
The roster is pretty strong, but can they deliver? Cuau will carry them a long way, but only if he can keep playing at the level he showed last season. Chad Barrett showed improvement with the U23's, let's see if he can do it at the professional level. Andy Herron is back, and the new Pole up front should score some goals. Mapp, Rolfe, Segares, and Robinson could make up the strongest wide play in the league.
The biggest issue is Wilman Conde. Reports are that his teammates are getting sick of his constant complaining about not being traded. Will he become a clubhouse cancer, or will this behavior subside once the real games start?
I worry about a first year head coach with this group, and I think they'll suffer because of it.
Toronto- Cindy Mancini (Can't Buy Me Love)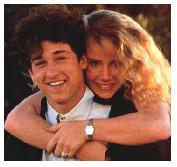 The crowds make them popular, but the depth is lacking
I have no idea what TFC was thinking with all of their offseason moves. Mo moves upstairs and they bring in John Carver as the head coach. How is all of this going to work?
They still have the same bright spots (Edu, Wynne, Cunningham, Brennan, and Dichio) and the same issues. Harmse will bring some bite into the team, to go with Dichio, and Julius James and Pat Phelan will add depth to the backline.
Other than that, I don't know what else to say about this group. Just be happy with the picture...
Kansas City- Johnathan Switcher (Mannequin)
MLS Cup 2008 is as likely as a mannequin coming to life
The Wiz move from Arrowhead into a minor league baseball stadium this year. I just don't know if I can believe that a team playing in a minor league baseball stadium will be hoisting the MLS Cup. Eddie Johnson is gone, and I don't know if that's a bad thing or not.
Claudio Lopez will be interesting to see in MLS. Can he live up to the hype? We'll see soon enough. I do think Marinelli will be better this year, combining with Trujilio and Lopez. They should score some goals.
Will Conrad and Hartman be enough to keep KC in games? Looks like they're going to have to...
Columbus- Sloane Peterson (Ferris
Bueller's Day Off)
You keep expecting something to happen here, but there's nothing
I had faith in the Crew improving when Sigi was hired. They made some good moves. Nothing happened. They brought lots of good, young talent. Nothing happened. You just keep expecting them to start winning games consistently. Nothing happened.
I like Gaven, I like Robbie Rogers. I'd like to see Nico get back to his 2006 form in Colorado. Brian Carroll will help solidify the midfield, but they already had Oughton there. I just think Sigi has completely lost the plot.
San Jose- Long Duk Dong (Sixteen Candles)
The new kid in school, let's just hope they don't end up face down in the yard at the end of the season
The Quakes will be better than the last few expansion teams, but that really isn't saying much. The defense is fine, the midfield is solid, but the attack is lacking a bit. I've always liked Kei Kamara, this is his chance to show he deserves a chance to start.
Unfortunately, I don't think our friends in San Jose will be as entertaining as the Donger.