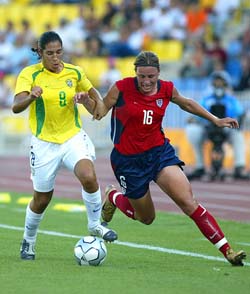 I mentioned in the comments about Game #1 that Abby Wambach was the type of player that you couldn't sub unless you had to, even if she's off for 8-10 minutes getting stitches in her head. I think she showed a little of why that's true this morning, as she scored twice to lead the American ladies to a 2-0 win over Sweden.
The first 10-15 minutes of the match were frightening, as Sweden had all of the possession and all of the chances. They had four corners in the first four or five minutes, it was ridiculous. The first Wambach goal, from the penalty spot, seemed to give the Americans the confidence they've been lacking in this tournament.
Her second goal was a great one, a chest trap followed by a volley inside the box. Wambach is a force that is almost unstoppable.
In the other game in the group, North Korea continued their excellent play with a 2-0 win over Nigeria. That puts the US and North Korea level at the top of the group, and perennial power Sweden struggling to get out of the first round. The main thing is that the US wants to win the group, because second place will almost certainly get Germany in the quarterfinals. Although, England was able to get a scoreless draw against the Germans, so their dominance could be questioned a bit.
And now, just for the Cupcake Nation, your moment of zen...