It's a good thing Luis at
Sideline Views
has Chivas USA President Antonio Cué's phone number.
On Monday Luis put in a call to the Goats' main man, who was in Mexico City at the time, and found out
a few things
.
With Mexican outlet
Record
(think Mexico's version of Spain's
Marca
) reporting that Chivas Guadalajara and Chivas USA officials are in pursuit of Zizou, it was a great time for our buddy to put some feelers out.
Cué neither confirmed nor denied the report, which could leave the average fan scratching their heads. The bottom line is this: Zidane would never play for Chivas Guadalajara. If signed, he'd be a Chivas USA player, and I can say this because of the fact that Chivas Guadalajara only has Mexican players, one of their most famous traits.
Also in Monday's conversation, Cué revealed that Chivas USA has a new club sponsor. In mentioning this, Cué said that the sponsor is not among the team's current ones that include AeroMexico McDonald's, Chivas Regal and Corona.
When the idea of jersey sponsors came up last year, over on BigSoccer I had mentioned that the perfect sponsor for the team might be Bimbo, the Mexican bakery that has also grown into the United States in the past few years.
It is a company that is well known amongst Latinos here in the States, and while everyone else might snicker at the company's name, I can't think of a better sponsor to see on the front of Juanito Bornstein's jersey.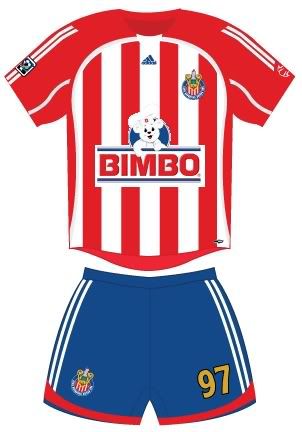 A poster over at BigSoccer came up with a prototype months ago, and I'll have to admit, it looks pretty good.
Also, bear this in mind: Both of Jorge Vergara's other teams, Chivas Guadalajara and Costa Rica's Saprissa also have Bimbo on the front of their jerseys.
I just hope I'm not setting myself up for disappointment.