Hola a todos, I am El Güero and I'm here to introduce myself. I'm the resident Chivas USA fan here, so you better learn some Spanish.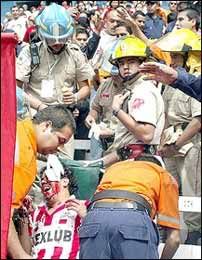 Unlike those cowards over at
MLS Underground
, I'm not afraid to show my face. Yep, that's me in the Chivas jersey. One bad mistake and your life changes forever. Some say my mistake was holding the firecracker for too long near my face, but I say my mistake was going to a Chivas-Jaguares game during Jaguares' inaugural season.
Señor Vergara was so upset at my carelessness that he shipped me north of the border and plucked me down in Atlanta to plant the seed of Chivas USA fans outside of Los Angeles. I really can't complain, as he has provided me with a lifetime supply of everyone's favorite drink (except for Oswaldo, of course).
But in all seriousness, keep checking back with the site! It plans to be a season of change once again at El Home Depot Center and we'll be along for the ride, here amongst the throng of D.C. United fans.
In the meantime, check out my buddy
Luis's
excellent site,
LA Soccer News
for all your breaking news from out west.